29 Oct

Stage Focus – Our 6m x 6m Profiled Roof Stage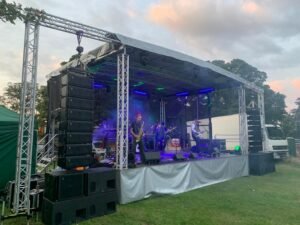 STAGE FOCUS
Introducing our 6m x 6m profiled roof stage
The stage can be equipped with PA flying brackets, steps, handrails, and other necessary accessories.
The performance area measures approximately 6m x 6m, and the roof extends beyond the front of the stage, providing shelter in case of rain.
This particular stage is perfectly suited for various occasions, such as live music events and festivals, school and private parties, hotels and conferences, fashion shows, youth clubs, sports halls, and pubs. Additionally, it can also serve as a platform for brand activations.
Contact us today for a free, no obligation quote, and add that sparkle to your event or occasion
For more information on this stage, please
CLICK HERE
For all of your stage hire requirements, Mobile LED wall, dry hire, event entertainment and lighting and PA, be sure to contact us for a no obligation quote.
We pride ourselves on the services we offer and can ensure a professional approach throughout.